Some of my first blog posts discussed historical bikes resembling mine. In the same general vein are the old bicycle patents unearthed by Bob Shaver at his Patent Pending blog. Did you think that Cannondale invented the Headshock sometime in the 90′s? Nope — 100 years off.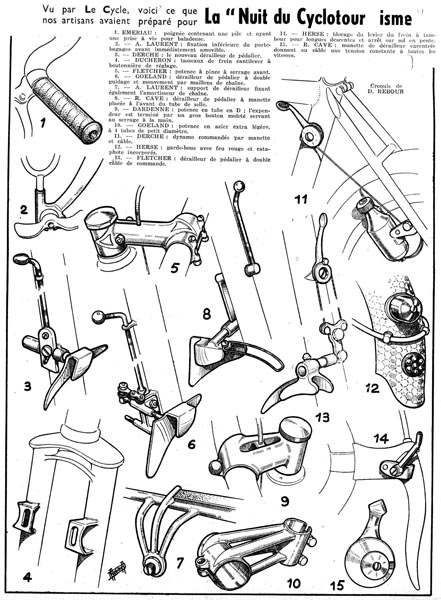 Another great cure for technological arrogance in the bike department is the work of the mid-century French illustrator Daniel Rebour, some scans of which Portland messenger and randonneur Joel Metz has made available. If you thought things like threadless headsets and brifters were recent innovations, well, you'd be wrong.
Among Joel's scans is a pictorial of auxiliary motors for bicycles showing a startling variety of approaches, some of which even resemble Stokemonkey in concept, driving the wheel through the bicycle's gears. The motors are gas, and the bikes not oriented toward bearing loads, but still it's marvelous to find oneself walking in the path of the great French constructeurs, as well as of the bicycle builders of the 1890s, whose talent was sadly diverted into aircraft and automobiles shortly thereafter.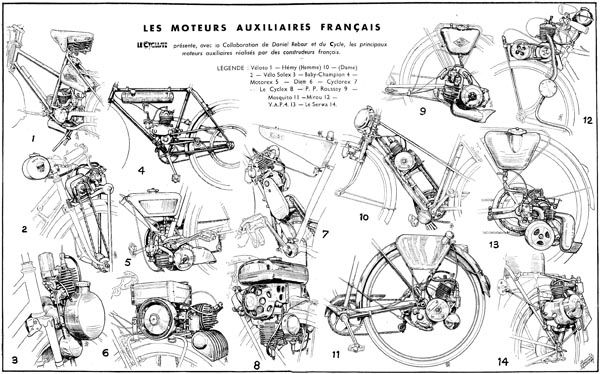 Daniel Rebour's drawings are compiled in four costly volumes, just in case you wanted to send me a gift, or get them yourself.