Nearly a year ago, I discussed Cleverchimp's battery packs. I say "Cleverchimp's" instead of "Stokemonkey's" because I conceive of the batteries as a commodity rather than part of Stokemonkey. Stokemonkey users shouldn't have to use Cleverchimp's batteries any more than drivers of Ford cars should have to buy Ford gasoline. We sell batteries solely because nobody else is offering them with suitable performance and physical characteristics at a reasonable price. That's a little ridiculous, because there's nothing exotic about these requirements. Anybody operating an electric bicycle, scooter, or similar has certain broadly similar desiderata. Meanwhile, we spend an inordinate amount of time sourcing, testing, rejecting, re-sourcing, and assembling batteries. We'd love to be able to refer our customers to any of several more specialized battery providers instead.
This post is a plea for other companies–battery pack makers and ultralight electric vehicle (ULEV) companies–to consider adopting the battery format we've worked out for Stokemonkey, because we think it will work well for others too. It's in everybody's interests for standard formats to emerge, especially in an industry composed of many small players. Standards are essential to achieving economies of scale, and scale is required to speed adaptation of the numerous promising new battery technologies on the horizon to ULEVs.
It boils down to packaging. Lots of companies are selling batteries that only robot squid could love, resembling shrink-wrapped bricks with half a dozen or more wires sticking out of them (three chargers for one pack?). Others offer a huge variety of different shapes, presumably to fit a huge variety of enclosures. But where are the enclosures? Selling battery packs without enclosures is like selling hamburgers without buns, utensils, or even napkins. Heavy battery packs composed of 20-40 cells desperately require enclosures for physical protection, because vehicles suffer a lot of shock and vibration, occasional spills, and weather.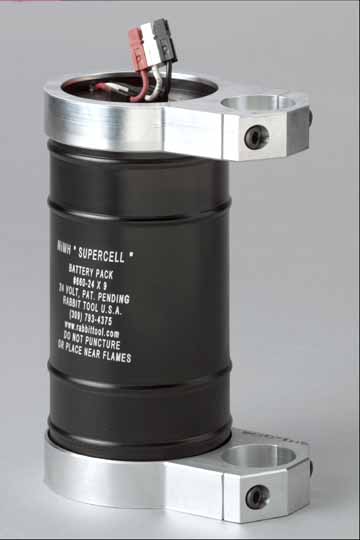 Rabbit Tool makes many packs with enclosures; they are costly because built to order in any of dozens of configurations, again defeating economies of scale. We bought several packs from them during Stokemonkey's development. They performed well, but all failed ultimately from physical abuse, as they are designed to be fixed to the vehicle with pricey clamps specific to a given tubing diameter, and we carried them loose in the Xtracycle slings instead.
The enclosures need to be easy to carry on the vehicle, and easy to carry off the vehicle, with no sharp edges or special mounting hardware. They need to be able to take a hit, because it happens. They need to let the battery shed heat (no padded bags, please). They need robust, locking connectors with a high cycle life for charge and discharge functions, with strain relief for any exposed wires, because wires get pulled in the real world. They need fuses for safety. And because batteries necessarily come in many different sizes, the enclosures need to be manufacturable in low volumes at low cost. One offset is that the cost of shipping packs goes down with enclosures, because smaller boxes with less packing material are required to assure that the packs arrive safe.
With these criteria in mind and loose cells in hand, a trip to the hardware store quickly revealed that standard 4″ ABS sewer pipe has the perfect inside diameter to accommodate 3 cells across, with just enough void to accommodate chassis-mount connector bodies or switches, fuses, a small circuit board, etc. The snug fit means no shimming or padding is required to prevent jiggling. It was an epiphany, and we're sharing. Just cut the pipe to length and you have enclosures for a wide variety of packs based on standard D and F-size cells:

If you're not asleep yet, here's full detail about how we assemble our packs. Please rip off anything you like; if you rip off enough, we just might send you a little business, or a lot.