Sheldon Brown died last night of a heart attack. He was 63.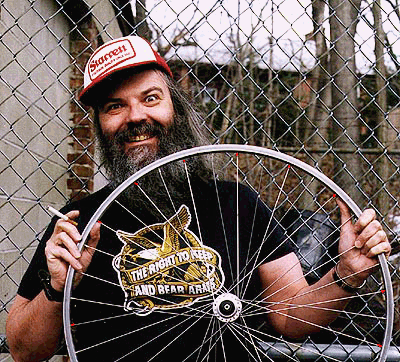 I can't think of anybody so generous with his knowledge in any subject. I doubt a month has gone by in the last dozen years that I haven't learned something useful from Sheldon, either from his site or via email or even the phone. I also bought quite a few hard-to-find parts from his shop, Harris Cyclery. Most bikey people I know hold him in similar esteem: the man gave and gave and gave, with unflagging enthusiasm, humility, and goofy geek humor; he was a real mensch.
I finally met him at Interbike last year. I waited in a small huddle of people waiting to shake his hand, and thank him. I waited 40 minutes at least. I told him what we were doing with Clever Cycles. Surely this lover of internal gearing, Brooks saddles, and general steely goodness of the sort common to older English and most Dutch bikes would like to hear, but he began to look alarmed. All wonderful stuff, he agreed, but his experience had been that Americans associate utility bikes with yard-sale/stolen/dumpster-dive prices. Surely few were buying these gravity-enhanced bikes that cost more than $1000! I was happy to contradict him, and felt renewed gratitude to be living in Portland where, indeed, enough people "get it" for a shop like ours to do well. I wish he could see us now and later.
This was the second Interbike he needed an assisted wheelchair to get around. An uncommon form of multiple sclerosis made bicycling impossible for him in his latest years, but he bore even this cruel irony with dignity and grace.